Part 1 of 3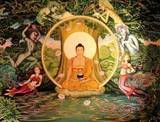 The Rime Buddhist Center and Tibetan Institute of Studies
is found in a hundred year old two story church in Kansas City, Missouri. The large red building offers ample room to hold not only the Buddhist service and practice but house dorms for retreats and visiting monks from all over the world. I found myself walking up the steep red stairs Sunday, March 15th at 10:15 in the morning for the 10:30 service with my husband and four children in tow.
When we entered the Rime Center we were first greeted by the sharp, rich smell of patchouli incense then by the friendly smile of a member on the look-out for visitors waiting to answer any questions. From previous conversations with Lama Chuck Stanford, we knew that there was a Sunday dharma school the children were able, and encouraged, to attend. After a brief conversation with the center's greeter we took the children upstairs, helped them remove their shoes and bid them farewell hearing them instructed to each pick up a zabuton and find a place to sit down.
My husband and I removed our shoes in the foyer and walked down the main hallway that ended at the shrine room. We briefly spoke with a gentleman who was handing out service programs and introduced ourselves. We explained that we were new to the center and if there were any last minute bits of information we should know. He said we were welcome to grab a spot to sit where we were comfortable, either on the hardwood floor on a zabuton with or without the zafu or on one of the chairs that lined the sanctuary. He told us to participate as much, or as little, as we felt comfortable and the program he gave us outlined specific details on what to expect and when. We thanked him and sat down on a zabuton with a zafu near the middle of the sangha to observe both the preceptors and the community.
Right away we took in the brilliant red drapes with colorful tapestries decorated with Buddhist iconography. The shrine, situated at the front of the room, held pictures of Tenzin Gyatso, the 14th Dalai Lama in various poses of him in meditation or smiling along with mandalas, statues of Buddha and Tara and colorful photographs of the sangha during many different events. The shrine room ceiling gently fluttered with the multicolored Buddhist prayer flags strung from one side to the other. The seating itself was divided into two sections on the right and left with a center path to the shrine and folding chairs lined the sides and back walls. The shrine room felt serene as each member sat quietly waiting for the preceptors to enter marking the beginning of the service. We noticed the energy shifting as people quieted and began their own personal meditations.
Part 2 to follow...